Together Canada, Mexico and the United States make-up one of the most competitive and successful regional economic platforms in the world. The success of this trading relationship depends largely on economic and commercial cooperation, integration, and policy alignment.
Facts about Food & Agriculture Trade
in North America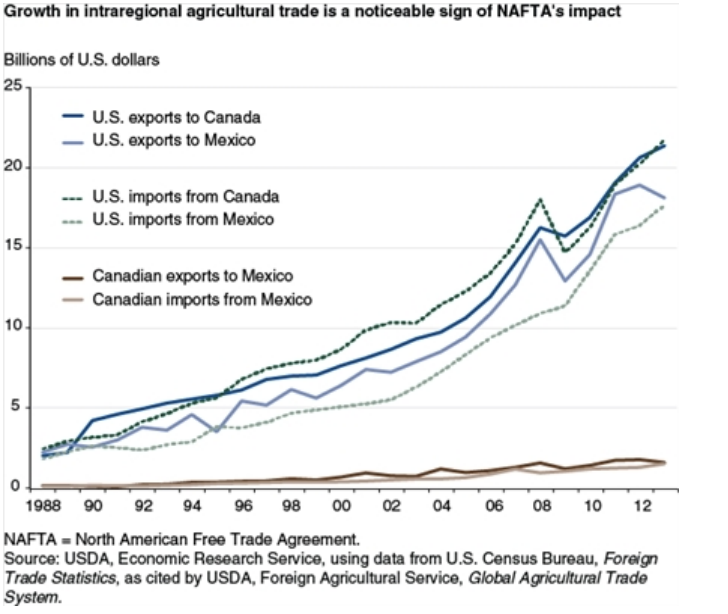 The North American market has been a bonanza for U.S. farmers and ranchers over the past 20 years. One in every 10 acres planted on American farms feeds hungry Canadians and Mexicans.
Total U.S. food and agricultural exports to Canada and Mexico have more than quadrupled, growing from $11 billion in 1993 to $43 billion in 2016. This accounted for 25% of all U.S. agriculture exports.
U.S. food and agricultural exports, which are heavily reliant upon the North American market, support over 15 million jobs from coast-to-coast.
Based on a U.S. Department of Agriculture estimate, for every $1 of food and agricultural exports, another $1.27 is generated in business activity. That is, in 2016 U.S. food and agricultural exports to Mexico and Canada supported $54.6 billion in additional business activity.
Foreign direct investment (FDI) in the processed food industry across North America translates into additional sales of U.S. agricultural products, further supporting American jobs. In 2012, majority owned affiliates of U.S. multinational food companies had sales of $32.4 billion in Canada and $13.8 billion in Mexico, according to U.S. Department of Commerce's Bureau of Economic Analysis data.